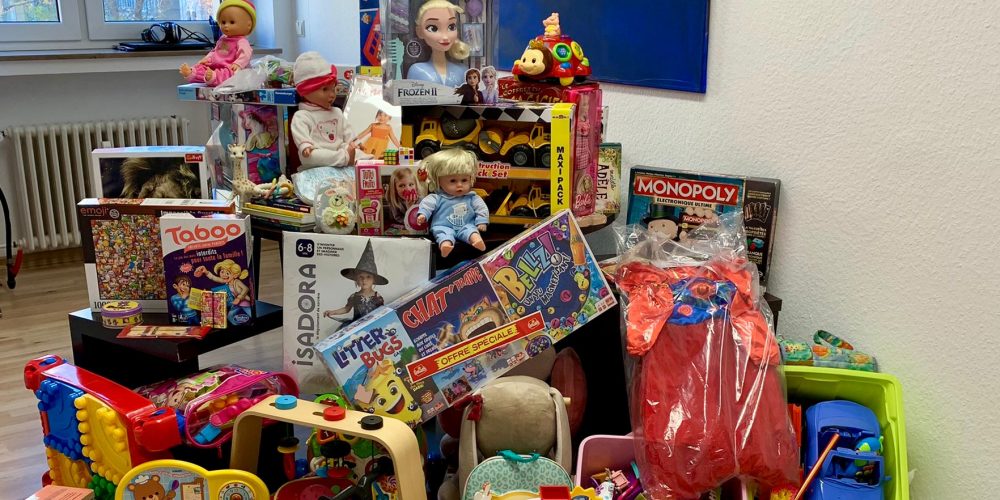 14 Dec

DO Recruitment Advisors Support Children's Charity This Christmas

It's about this time of year that our thoughts collectively turn to giving. With Christmas just around the corner, it's traditionally a time to exchange gifts, take time out and celebrate with your loved ones.

Whilst we're still in business mode at DO Recruitment Advisors, we are very aware that the holidays are fast approaching, and for many, they won't be filled with 'comfort and joy.'

This year the team here have been holding a toy collection to support the Wildgen 4 Children Toy Drive to help benefit the disadvantaged youth in Luxembourg.
Wildgen 4 Children Toy Drive
From 3rd to 20th November, we have been collecting toys and welcoming donations from colleagues, clients, friends and family to help make children's wishes come true.
20th November was International Children's Day, a day that specifically draws attention to children's fundamental rights and strives to remind us that even today, in Luxembourg and even in our neighbourhoods, children are living in vulnerable situations. It is heartbreaking that so many children are facing deprivation, living in food or fuel poverty and coping with disabilities.
By donating, we are helping support these children, not just with gifts but with vital equipment to help their learning and development. Across DO Recruitment Advisors and all of the collective businesses supporting Wildgen 4 Children, donations include items such as toys, books, puzzles, board games, indoor and outdoor items, electronic items like consoles, video games, sports equipment, school equipment, bicycles, scooters and more.
Why Wildgen 4 Children?
If you know us at DO Recruitment Advisors, you will know that our slogan is that people DO matter. For us, it is not just a phrase; it is something that we take to heart. Unfortunately, we are all too aware that not all people are born equal. Some are more privileged than others simply down to where they are born and the circumstances they are born into—something that children cannot control.
In over a decade at DO Recruitment Advisors, we have supported a large number of charitable and humanitarian causes, and we will continue to do so, but this year Wildgen 4 Children felt appropriate. The cause is driven Luxembourg based by full-service business law firm Wildgen.
All the toys collected are sorted by volunteers. Wildgen takes care of the logistics and works with freight specialists Michel Greco to oversee delivery to relevant centres. The children's charities benefitting from the toy drive are:
Croix-Rouge Luxembourg
Du Pain pour Chaque Enfant
Een Häerz fir Kriibskrank Kanner
Fondation Autisme Luxembourg
Fondation Kannerschlass
Fondation Pro Familia
Foyer Sud "Fraen an Nout"
L'île aux clowns
Maison Croix-Rouge Arlon
Solina Solidarité Jeunes
Stëmm vun der Strooss
TABA
Tricentenaire
We see so many businesses across Luxembourg and know how much recruitment impacts people's lives, so we wanted to do our part to support Wildgen.
Does Luxembourg need this support?
Luxembourg as a country has a huge amount to offer. The country scores highly for safety and security, and the infrastructure and school system for children is amazing. Our country is diverse and multicultural, something that we celebrate. Despite this, not all children benefit. Any child suffering or simply not able to have the Christmas they deserve is one child too many.
We're delighted to be in esteemed company with these like-minded organisations who are also supporting the Wildgen 4 Children toy drive:
AKT One, Black Wombat, Cardif Lux Vie, Centralis, Chambre de Commerce Luxembourg, CHAMP Cargosystems, Editus, Fortuna Banque, Gates, i-Hub, IMS, Intech, LeasePlan, MFS, Ocorian, Pall Center, Prolingua, Proximus, Rugby Club Luxembourg, SGI Groupe, Swissquote Bank Europe, T. Rowe Price and UBS.
To find out more about Wildgen 4 Children and how you can help, visit their website https://www.wildgen.lu/csr-w4/w4c#en
Please follow and like us: